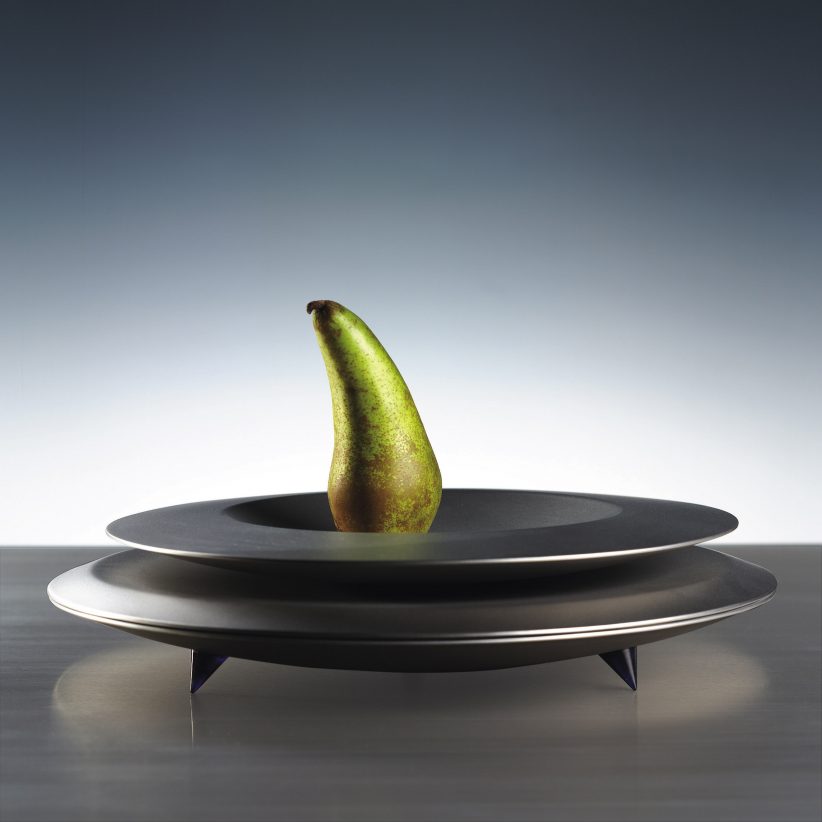 The main purpose of designing this product was to create a functional object that can perfectly exist on its own thanks to its aesthetic surplus value. However, it's also possible to change its form and function if you combine the three dishes in different ways.
Each dish is made of two globular stainless steel plates which are very original because of their volume. It makes it possible to change the form from the top to the bottom. The object will get another look, depending on the way the dishes are presented.
If you put the two superior or inferior dishes on top of the third one, the object will get a completely different form. The closed combination of the three dishes gives an austere shape that doesn't reveal its function or its possibilities. The drawing gives you an idea of the different combination possibilities.
UFO can also be used as fruit, vegetable, cake, cheese and snack dish, candleholder, base for a bouquet, percussion instrument, etc. The UFO dishes can be perfectly combined with the champagne bucket Zubazuba.
Dimensions: ø 38 x 7 cm h | ø 15 " x 2 3/4″
The dishes are made of two stainless steel plates (polished or sandblasted), which are 12/10 mm thick. The feet of UFO are made of blue Murano glass. UFO basic is the version without feet.
Awards
Winner of design contest "Zilver voor het fin de siècle" – Antwerp, Belgium (1997)
Selected for the 12th Silver Triennial – Hanau, Germany (1998)
Selected for the VIZO prices Henry van de Velde (1998)
Exhibitions
Part of the permanent collection of the Silvermuseum Sterckshof – Deurne, Antwerp
Selected for the exhibition "Uitgelezen Zilver", Silvermuseum Sterckshof – Deurne, Antwerp (2012 – 2013)
Request here a price indication or search for the nearest point of sale for UFO.


Search UFO near you
Discover where you can find your UFO near you.