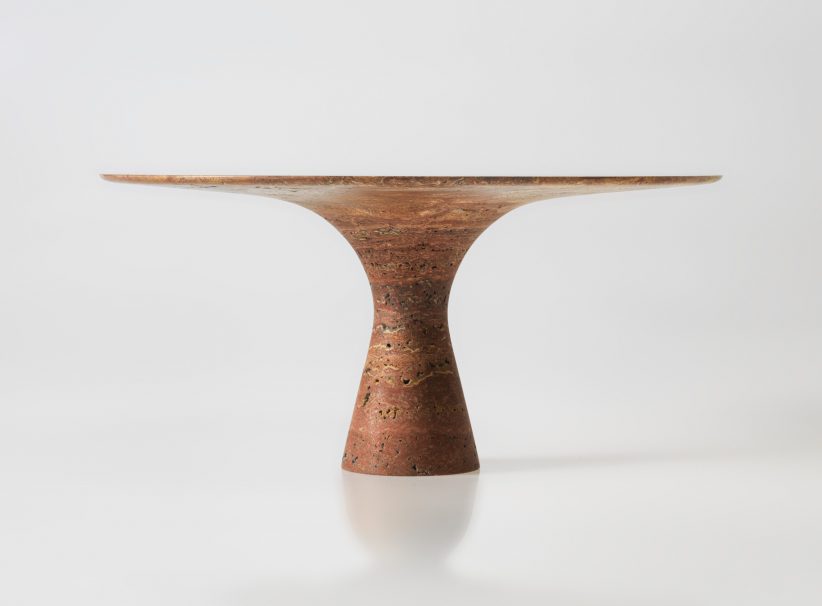 The design Angelo M is the essence of a round or oval table in natural stone, it features a sculptural form, sturdy material, an elegant line and a refined finishing. Two elements, table base and top, form one whole together. The bottom is one running curve from table foot to edge. The conical connection creates a stable whole.
To show the marble in it's most expressive character, different finishes are possible (polished, honed, brushed, striped, sandblasted & brushed). The base collection exists of nine marble variations and different sizes. On request this design can be executed in almost every type of marble and on measure.
This table is perfectly suitable in a housing, retail or office environment. As the table is supported by one central foot it creates a lot of flexibility in seating. Executed in hard variations of natural stone suited for external use this design can be a perfect garden table or sculpture.
Angelo M/R 130 : ø 130 x 75 cm
Angelo M/R 160 : ø 160 x 75 cm
Angelo M/R 180 : ø 180 x 75 cm
Angelo M/O 210 : 210 x 135 x 75 cm
Angelo M/O 250 : 250 x 160 x 75 cm
Angelo M/O 290 : 290 x 160 x 75 cm
The base collection is available in the following marbles of Kyknos, Grafite, Travertino Rosso, Grey Saint Laurent, Picasso Green, Port Saint Laurent, Travertino Silver, Rosso Lepanto and Bianco Statuarietto in a honed finish.
On request special sizes, finishes and marble variations are possible.
Angelo M was awarded the prestigious Good Design Award in Chicago USA (2018).
Angelo M was awarded the "People's Choice" award at the AZ Awards in Toronto (2019).
Angelo M is nominated for a German Design Award (2019).