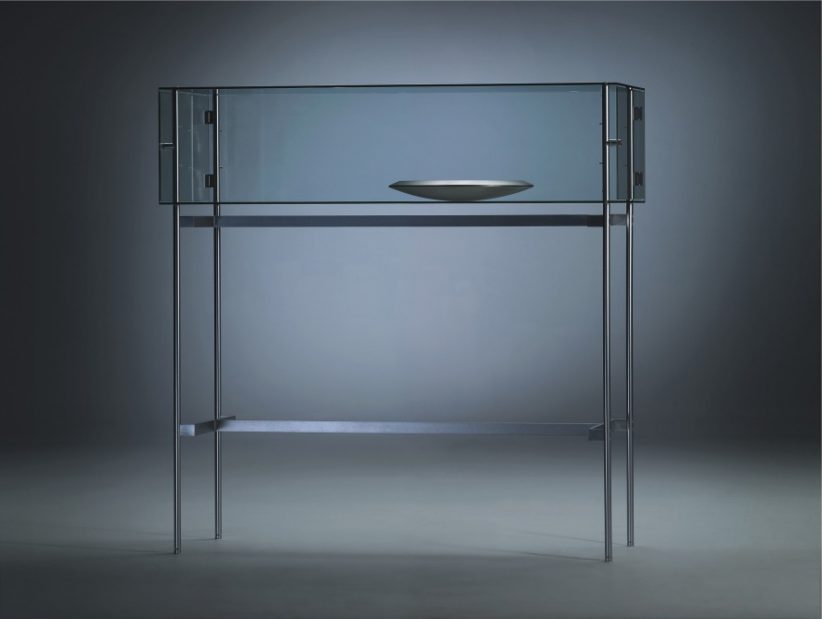 This showcase creates space and is a safe environment for the objects presented, without trying to be the centre of attention. The metal frame lifts the showcase up to the ideal height.
Special attention was paid to the details: small metal and transparent glass supports, hinges made to measure, a lock incorporated in the frame. The glass can be frosted in order to create a more intimate inner space. After a slight adaptation of the frame the showcase can be hung up freely against the wall. In the vertical showcase the tablets can be inclined for special presentations.
Visibile was awarded the prestigious Good Design Award in Chicago USA (2005).
Visibile Vertical Standing: 60x180x51cm
Visibile Vertical Hanging: 60x126x36cm
Visibile Horizontal Standing: 120x120x45cm – 150x120x45 cm
Visibile Horizontal Hanging: 120x36x51cm – 150x36x51cm
tempered glass, 6 mm thick, glued in mitre with a UV glue
The frame is made of steel, silver lacquered.
On request special realisations and dimensions made to measure are possible.