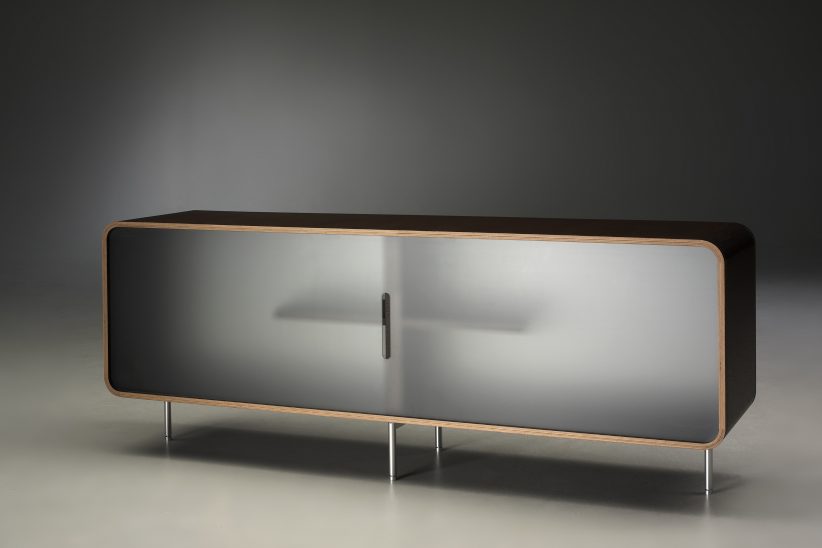 Curva is a cupboard collection, made of curved bamboo multi-ply board. The few components and aluminium connector are joint together to a cupboard, simple, sober and clear.
The cupboard is made with respect for the environment: there is a minimum use of materials and the connection between the components is loose.
Different wood finishes, lacquered versions and other combinations of materials are possible.
Price on request.
Curva hanging:
35 x 160 cm – 52,5 x 160 cm
35 x 240 cm – 52,5 x 240 cm
Curva standing:
45 x 160 cm – 45 x 240 cm
62,5 x 160 cm – 62,5 x 240 cm
80 x 160 cm – 80 x 240 cm
Available in walnut, wenge and maple.
Available in lacquered white, black, grey, orange, red, blue and green.
Awards
Good Design Award – Chicago, USA (2008)
Red Dot Design Award – Essen, Germany (2009)
Fidias Award, category furniture – Belgium (2009)
Winner of eco-design label from Ovam – Belgium (2009)
Selected for New Glass Review 30 – Corning, USA (2009)
Nominations
Nominated for Designpreis – Germany (2010)
Request here a price indication or search for the nearest point of sale for Curva.


Search Curva near you
Discover where you can find your Curva near you.